MMA Fit - Strength, Fitness & Conditioning
Overview
Our range of MMA Fit classes are designed to put you through similar physical workouts to those which get our fighters in top shape.
These classes are designed to keep you moving, and as such is are focussed fitness-specific sessions (rather than our Technical MMA classes).
Our programme is designed to give you a mixed workout including:
Cardio / aerobic fitness
Strength & explosive movement
Resistance & endurance
Flexibility
Body conditioning
Agility and coordination
This class is non-contact and no prior experience is needed. It is suitable for all ages.
Training Times
Monday
7-8am MMA-Fit (Cardio)
6-7pm MMA-Fit (Calisthenics)
Tuesday
6-7pm MMA-Fit (Bootcamp)
Wednesday
7-8am MMA-Fit (Bootcamp)
6-7pm MMA-Fit (Cardio)
6-7pm MMA-Fit (Stretch)
Thursday
6-7pm MMA-Fit (Bootcamp)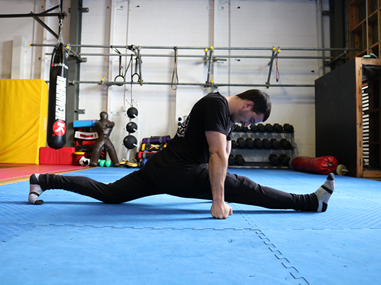 A lower intensity session focused on building hip strength and improving flexibility
Learn more